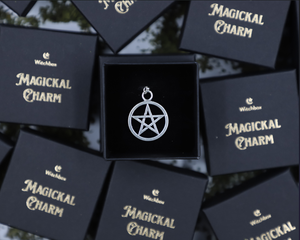 This Tibetan silver pentagram charm is the first in our collection of Witchbox charms. It will make a great addition to your Witchbox charm bracelet or even as a part of your altar space. Our charms are all designed to be perfectly practical and usable within your craft too.
The charm comes in it's own card box and features "Witchbox Magickal Charm" on the case in beautiful gold lettering.
Charm is 25mm x 20mm and comes attached to it's own lobster clasp. Charm box is 50mm x 50mm and 32mm high.