The Original Magickal Subscription box
£32 (Incl P&P)
Magickal monthly boxes full of witchy treats and witchcraft secrets with a retail value of more than £70! We ship all over the world and donate a part of the sale of every box to clear up the world's oceans. Made with love in the UK.
Subscribe
The Witchbox Lite
£19.99
The Witchbox Lite is a smaller version of the original Witchbox. This box will follow the same theme as the original and have a curated selection of items from this box. Made with love in the UK. Minimum retail value of £35
Subscribe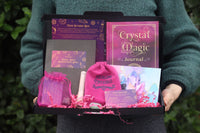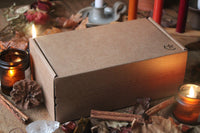 Witchcraft Mystery Box
£25.00 -£35.00
We also create magickal mystery boxes in 2 sizes, original and mini. Our subscription boxes are never sold separately but this box may contain a selection of items from multiple past boxes.
Browse
Dream Magick (November)
Contents:
Exclusive Dream Journal
Exclusive Witches Flying Ointment
Exclusive BOS page- Dreams & their meaning
Exclusive Dream weaving Spell Kit
Labradorite & Information card
Exclusive Astral Travel Wheat Bag
Exclusive Lavender Soap
Exclusive Magickal Sleep Tea
Exclusive Mantra for Astral Travel Card
See Contents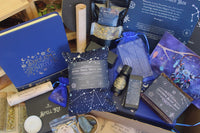 October (Crystal Magick)
Contents:
Crystal Magic Journal by Samara Lake
Exclusive Wooden Crystal Grid
 Exclusive Magickal Crystal Wand
Exclusive Crystal Wax Melt
 Empowering Blood Garnet Bracelet
Exclusive BOS page covering Crystal correspondences
Exclusive Healing Crystal Set
Lepidolite Crystal with Exclusive information card
Exclusive Spell Kit for Family Unity
Exclusive Crystals of the Month art card
See contents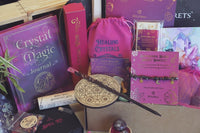 Spellcraft (September)
Contents:
Exclusive Book of Shadows Notebook
Exclusive Crystal Healing Wand
Incense Powder Mould Set
Exclusive Enchanted Spell Candles
Exclusive Spell Kit for Inner Harmony
Exclusive Coffin Nail Charm
Mookaite with Exclusive Information Card
Exclusive Frankincense Powder
Exclusive Casting a Circle BOS page
Exclusive Eko Eko Art Card
See contents
Green Witch (August)
Contents:
Exclusive Citrine Wax Melt (VE)
Exclusive Mushroom Pin Badge
Exclusive BOS Page - Chant to Diana
Exclusive Magickal Herbs Art Card
Exclusive Wild Herbs
Exclusive Peaceful Sleep Spell Kit
Green Agate with Exclusive Information Card
Exclusive Magickal Mortar and Pestle
Exclusive Spell Paper
Exclusive Herb Chopping Board 
See Contents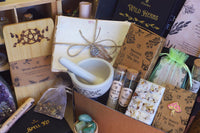 What our customers are saying
Extremely pleased. The first box I received was divination and I couldn't believe my luck. Amazing for experienced & baby witches.

Natasha
Best ever. I really looked into what subscription box is best and I've never been disappointed everything is such good quality and you get so much! Totally addicted and grateful for my monthly box!

Hannah
This box was absolutely amazing! ... this month was on a different level. I was just very impressed with how much and how good the quality was! I'm super excited to get into this box as it relates to me as a Scorpio! Keep it up guys this was great, cannot wait to see next months!

Benji
Witchbox, well its amazing, whether you are new or not so new! to Crafting its a real joy, different themes each month, pre done spell kits, jewellery, items for your alter, beautifully packed, I cant recommend Witchbox highly enough. They even put a box together for my birthday.

Angela
I am never disappointed with my Witchbox. There is always something inside to engage me and push my knowledge further. It has also surprised me with its aptness - a box for self-love when I have needed it and, my favourite so far, the goddess box. Items chosen with care and of amazing quality.

Anita
I have been receiving my little box of monthly happiness for nearly 2 years now & have loved every single box. The care & attention that goes into them is superb & the quality is excellent. Thank you Witchbox team xx

Vikki